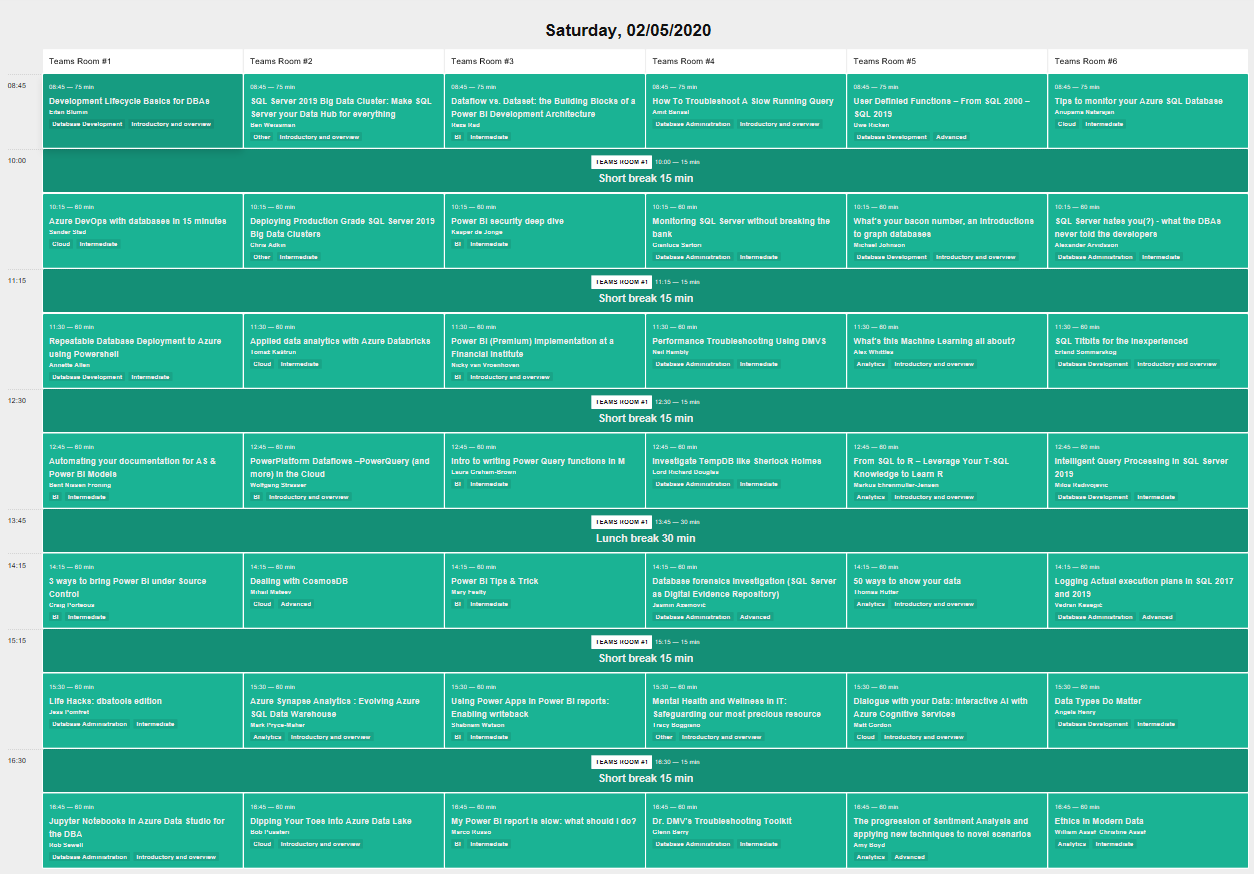 The past ten days, I have spent quite some time promoting the virtual conference Data Community Weekender Europe, or #DataWeekender on May 2 2020. I'm one of six organizers, all people from the Microsoft Data community, better known as #sqlfamily. We saw conferences get cancelled or postponed and wanted to do something for the members of the community, speakers as well as conference attendees. So we came up with the idea to organize a virtual conference – #DataWeekender.
We are not alone, EightKB is another new Microsoft Data Platform conference, in June. And GroupBy is happening as usual in May. (I have submitted sessions to both, and for GroupBy, you are very welcome to vote for my session, as their sessions are picked by the community, not the organizers).
But #DataWeekender is probably the conference with the shortest time from idea to conference day. We opened up Call for Speakers April 8 and the conference is May 2. Given that short timeframe, I'm completely blown away by the number and quality of submissions. Doing session selections has been extremely difficult. If we created a new conference, with only the speakers and sessions we unfortunately had to reject, it would still be a very respectable conference schedule.
We still have a lot of work to do the coming less than two weeks leading up to the conference. And during the actual conference, the whole organising team will be busy moderating sessions. And until then, we need to test out conference technology, distribute and get confirmation on tons of information to speakers. And last but absolutely not least, we need to continue marketing the conference to attendees.
A very important milestone in the conference planning is now done. We have a schedule! Six tracks. 42 sessions. 43 speakers. Check it out on www.dataweekender.com/schedule ! Also checkout the speaker wall below, click on speaker name to see their bio and session.
#DataWeekender is running on a zero budget. We haven't accepted any sponsors and we are not charging anyone to attend. Speakers get a Thank You, and bragging rights for getting selected. But nobody is paid anything. That makes marketing a little different than commercial conferences. We also do not have the Sql Saturday platform to channel information to the community. Instead, we are relying on our contacts with User Groups all over Europe and our social media channels.
Therefore, I ask from you to help promoting the conference. The schedule will be up on www.dataweekender.com late tomorrow. Whenever you see information about #DataWeekender in your social media feeds, please help us share the information. We would be very happy if you also make a post on your own about it. The speaker line-up is truly an impressive one, with MVPs, Certified Masters, Microsoft Employees and other amazing Data Platform presenters. Please help us get that known to the Data Platform community. I'm going to be more active than usual on the blog, sharing news not suited for the Twitter limited number of characters.
I hope to see you on May 2!.